Experience secure enterprise file transfer with a trial version of GoAnywhere.
Complete the form to request a trial for your organization.
Image
Image
Image
Leading Organizations Trust GoAnywhere to Secure and Automate File Transfers
Easy implementation, covers all our needs.
We have thousands of data and files to send and receive from multiple suppliers and customers. GoAnywhere synchronized each process and allowed us to introduce data transformation with application changes.
4.8 51 reviews
Image
Image
Image
Why GoAnywhere MFT?
Media
Image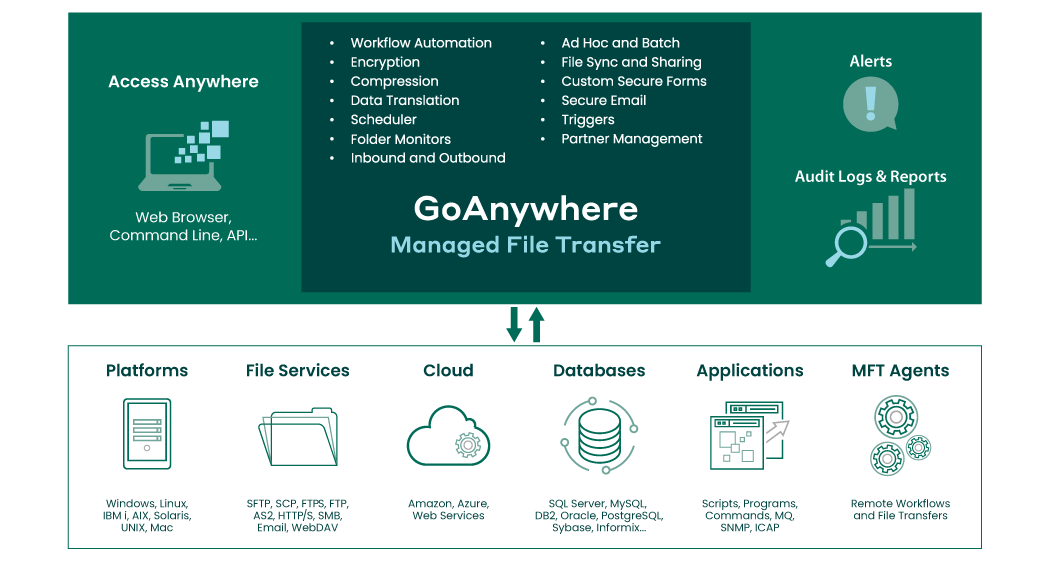 Text
GoAnywhere helps you streamline and secure your file transfers. See these features and benefits at work in your organization with a commitment-free trial.
Support for Any Environment: Install our solution on the platform of your choice. GoAnywhere Managed File Transfer can be deployed on-premises, to the cloud, or in hybrid environments, including on platforms like AWS, Microsoft Azure, Microsoft Windows, and Linux.
Automatic Encryption: Secure the integrity and contents of your files without processing each one manually. Organizations can encrypt their data with several popular encryption technologies and automate the process with GoAnywhere workflows and projects.
Secure File Exchange with Trading Partners: Safeguard your data in motion. GoAnywhere uses industry-standard file transfer protocols like SFTP, FTPS, and AS2 to protect the files you send to your trading partners. File transfer automation can even streamline this process for you while maintaining the highest level of file security.
Monitoring & Notifications: Monitor your activity and receive notifications for triggered events of your choosing. GoAnywhere logs all file transfer and administrator activity. You can view this information in a dashboard or distribute it to others as PDF reports. Email and SMS notifications ensure you're always aware of what's going on.
Threat Protection: Through a seamless bundle with our Secure ICAP Gateway, further secure file transfers by eliminating the risk of malware entering your organization, or employees losing or mishandling data. This feature automatically scans content for viruses or malware, as well as inspects it for unwanted metadata or sensitive content that needs to be redacted.