GoAnywhere MFT: The #1 File Transfer Solution
Text
GoAnywhere MFT is a secure managed file transfer software solution that streamlines the exchange of data between systems, employees, customers, and trading partners.
 For ultimate flexibility, GoAnywhere MFT has multiple deployment options including:
On-premises
In the cloud on platforms including Microsoft Azure and AWS
On our MFTaaS hosted plan
Within hybrid environments
Plus, our file transfer software solution runs easily on platforms like Windows, Linux, AIX, and the IBM i.
All-In-One File Transfer Software Solution
Media
Image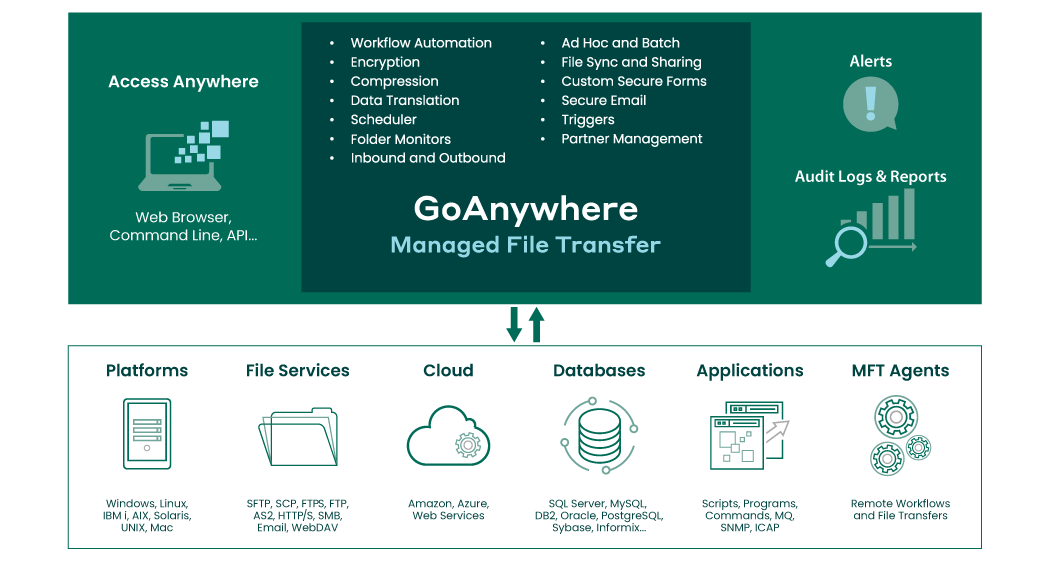 Text
You no longer have to use multiple products and scripts to handle your secure file transfer processes.
GoAnywhere Managed File Transfer is a comprehensive file transfer solution that will manage your organization's file transfer software, file sharing, secure FTP, and automation needs through a single interface.
GoAnywhere's file transfer software has the flexibility to simplify, secure and audit:
Batch server-to-server file transfers
User-to-system ad-hoc file transfers
Person-to-person file collaboration
Read the GoAnywhere MFT Datasheet > 
What can MFT do for your organization? Read the Buyer's Guide to learn more > 
GoAnywhere MFT Interface
Media
Image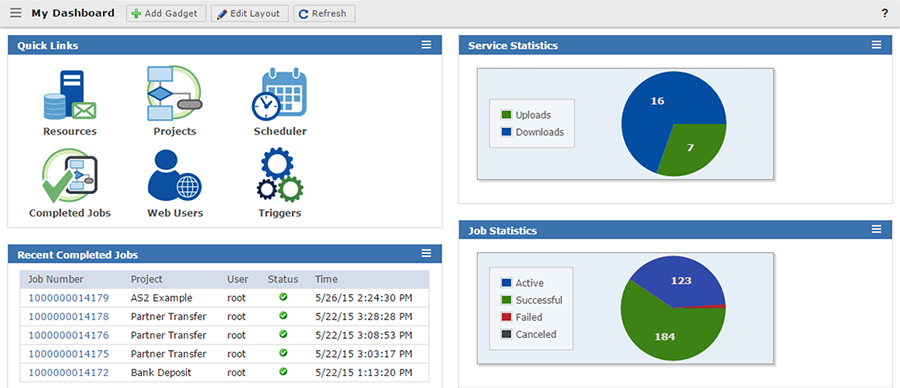 Text
Intuitive browser-based interface with simple drag-and-drop controls
Easily customize your GoAnywhere MFT dashboard with the content that interests you most.
Move Files Securely with GoAnywhere Managed File Transfer Software
Obtain a personalized quote based on the features you need.
Request Pricing
Why is GoAnywhere MFT Important
What Sets GoAnywhere MFT Apart
MFT Software Gold Medalist
Media
Image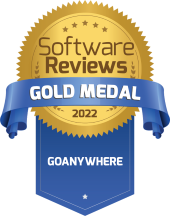 Text
Out of the multitude of vendors in the MFT market, GoAnywhere's secure managed file transfer software received the highest overall composite score and net emotional report score, in a new 2022 report from Info-Tech Research Group.
G2 Calls GoAnywhere Leading MFT Software Solution
Text
GoAnywhere MFT has been recognized by G2 as one of the best leading "Managed File Transfer" solutions for mid-market and enterprise organizations. This honor is given to GoAnywhere based on the solution's high levels of customer satisfaction and their position in the market compared to other products.
See How GoAnywhere Stacks Up Against Progress MOVEit
It used to take eight hours every month to print and send out our monthly accounting reports from JD Edwards.... With GoAnywhere, we've got it down to less than an hour.
Aaron Wiggans, Application Development Supervisor, Adams County Colorado
GoAnywhere Managed File Transfer FAQs
GoAnywhere MFT allowed us to eliminate and reduce the need for custom programming to transfer files and database records between dissimilar database management systems. We found GoAnywhere to be highly intuitive, flexible, and easy to use.
Van N. Sy, Vice President, Think Bank
Left Column
4.7/5
Image

Middle Column
4.7/5
Image

Right Column
4.8/5
Image

Secure Your File Movement with GoAnywhere
Start a free 30-day trial and see if GoAnywhere is the right solution for your organization.
Get Started