PRODUCT SUMMARY
GoAnywhere MFT
GoAnywhere MFT is an enterprise-level solution which will secure, automate and manage all of your organization's file transfer needs through a single interface. With extensive security controls and detailed audit trails, GoAnywhere MFT will help your organization comply with data privacy regulations and PCI DSS. This innovative solution automates Server-to-Server file transfers and simplifies Person-to-Person file sharing and collaboration.
Quick Facts
Multi-platform
Browser and API Interfaces
Single Point of Control
Encryption Standards
Detailed Audit Trails
Compliance Reports
Active-Active Clustering
Mobile-friendly
Image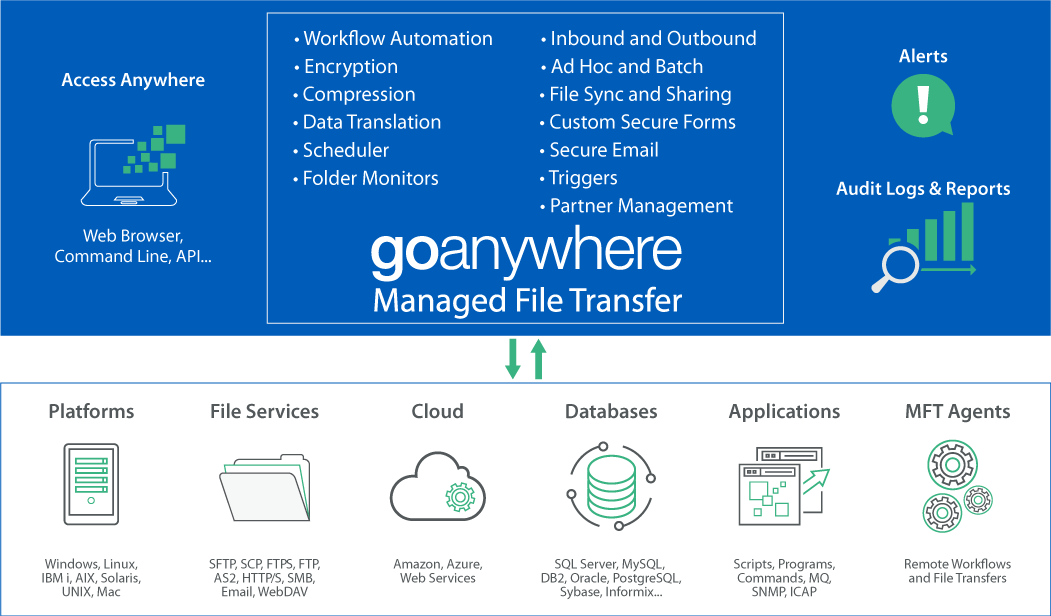 Text
Server-to-Server Automation
The intuitive interface and extensive workflow features in GoAnywhere MFT help eliminate the need for traditional file transfer scripts, single-function tools and manual processes.
Use a modern browser-based dashboard to configure and monitor file transfers
Create multi-step workflows to transfer, encrypt and process files
Connect to a wide variety of servers for exchanging data using standard protocols
Allow trading partners to securely connect and exchange files with your organization
Integrate with existing applications and programs using commands and APIs
Monitor folders for new files and process immediately
Schedule file transfers to run at future dates and times with custom calendars
Translate data to/from popular file formats and databases
Protect data at rest and in motion using industry standard encryption and file transfer protocols
Keep sensitive files out of the DMZ while protecting the private network
Accelerate large file transfers over UDP data channels
Maintain compliance with detailed audit logs and reports
Segregate users and administration into separate security domains
Cluster installations for scalability and active-active high availability
GoAnywhere Takes the Leading Spot in the MFT Data Quadrant
Media
Image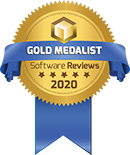 Text
Out of 40+ vendors in the MFT market, GoAnywhere received the highest score for product satisfaction, features, and vendor capabilities, in a new 2022 report from Info-Tech Research Group. The report was based on user reviews on SoftwareReviews.com. Download and read the complete report and vendor comparisons today.
Person-to-Person Collaboration
Text
GoAnywhere MFT allows your employees, customers and trading partners to efficiently share files and collaborate from any authorized computer or mobile device using intuitive screens and apps.
Sensitive files are encrypted at rest with centralized access controls in order to meet strict compliance requirements. All transactions are audited in a central database for reporting purposes.
GoDrive
GoDrive provides Enterprise File Sync and Sharing (EFSS) for your employees and partners. Files and folders are easily shared between users with advanced collaboration features.
Sync files across Windows, Mac and mobile devices
Protect files with end-to-end AES 256 bit encryption
Use public URLs to share files in GoDrive with registered and non-registered users
Set disk quotas at the global and per-user level
Track file revisions and comments
Restore deleted files from a trash bin
Remote wipe lost or stolen devices
Secure Forms
Text
Allow end users to fill out custom forms with one or more input values and optionally upload files through the HTTPS Web Client in GoAnywhere. When a form is submitted, a workflow can be executed to automatically process the submitted values and files.
Secure Folders
GoAnywhere MFT offers an intuitive HTTPS Web Client that allows employees, customers and trading partners to quickly transfer files between their desktop and your server using the convenience of their web browser.
Authenticate users against Active Directory or LDAP
Set granular folder permissions
Drag-n-drop within a modern HTML 5 interface
Trigger actions to send email alerts or run workflows
Encrypt files at rest and in motion
Rebrand interface with custom logo and privacy text
Secure Mail
Text
Send large files without size limitations
Encrypt and store files/messages (packages) on-premise
Protect packages with unique tokens or passwords
Expire packages after a specified number of days
Limit the maximum number of file downloads
Allow secure replies with confidential messages and files
Centralization and Mobility
GoAnywhere MFT integrates with Fortra Insite, a secure web platform that gives Fortra customers a centralized view of product performance. Users can create dashboards for visibility into key business analytics and switch between products with ease.
Using Insite, GoAnywhere administrators can supervise multiple systems, monitor file transfer metrics, and create dashboard widgets for over 25 GoAnywhere events. These widgets give admins visibility into the status and activity of GoAnywhere servers, job performance data, and more.
Fortra Insite is accessible from anywhere on any device, including smartphones and tablets.
Text
Technology Partners 
Image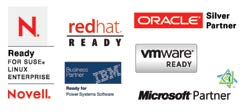 Text
Move Files Securely with GoAnywhere Managed File Transfer