Image

Vendors, employees, customers, and trading partners exchange an abundance of files every day, often by a variety of means including mail, email, telecomm apps like Skype, shared file storage like Dropbox or Google Drive, and sometimes even SMS. While documents are an inescapable reality for busy organizations, keeping track of this data can be overwhelming (to say the least).
The good news is, there's a way to avoid document chaos—with GoAnywhere Secure Forms!
Secure Forms is a GoAnywhere MFT module that allows you to create custom forms and send them to important parties through public or private links. Forget paper documents; files can be uploaded to each form and are immediately encrypted, ensuring that sensitive information isn't put at risk. Then, submitted forms are processed based on your business needs. Easy peasy.
If you need help visualizing the process, consider this:
Let's say you need to collect invoices from your vendors. Instead of obtaining them by mail or email, which can be unreliable, you can use Secure Forms to receive the documents safely and in a single place.
Here's what the journey from requesting a document to receiving it could look like:
You create a secure form with all the custom fields you need to get the right information from your vendors.
Vendors access the form via a URL you email them. The URL can be public or private, giving you control over who views the form.
The vendors fill out their information, then drag and drop invoices into the form.
Attachments are uploaded and secured with AES-256 bit encryption.
Upon submission of the completed form, a project triggers and processes the invoice.
Processed invoices are distributed to the finances department for approval and payment.
An example of what a Secure Form could look like:
Image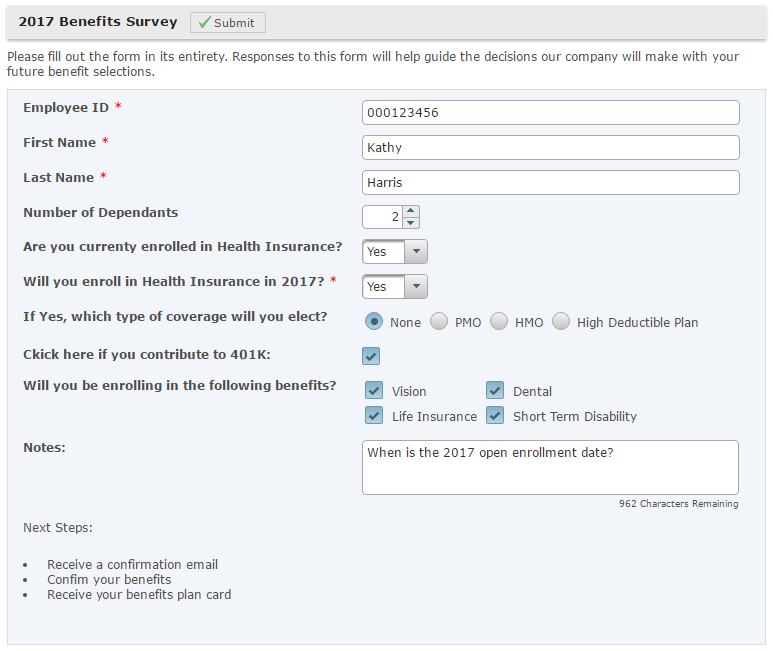 Sound like a dream come true? It gets better. Here are 15 ways GoAnywhere's Secure Forms module can help you avoid document chaos and simplify your business processes:
Secure Forms can be set as private, which will require users to log in with an authorized username and password before they can access the form.
Alternatively, Secure Forms can be configured as public, allowing anonymous users access to the form as long as they have the URL.
The forms are completely customizable. You can change the input fields, custom labels, and file upload components to control the data your users provide.
You can configure submitted forms to return a personalized message and give the user downloadable files (for example, a PDF with follow-up instructions).
Secure Forms can include default values, helpful tooltips, and placeholders to make forms more user-friendly.
Any kind of file can be dropped into the form. Once added, it is secured with AES-256 bit encryption.
A history log is retained for each form, allowing administrators to see when the form was completed, who completed it, and what the responses were.
Secure Forms include full SOAP and REST support, allowing users to submit forms from other applications as well as from a URL.
You can choose which file types and sizes users are permitted to upload, as well as specify the maximum number of files that can be submitted.
Secure Forms integrate with GoAnywhere's Advanced Workflows . This integration allows you to streamline and automate the processing of submitted values and files.
The forms can be used to collect anything, from order forms and employee survey responses to ballots and new patient information, giving organizations flexibility and security.
You can choose to be notified by email or SMS whenever a form is submitted.
You can convert the data submitted with a form. For example, a user can upload an Excel file which you can then translate into XML or upload to a database.
Secure Forms can be embedded into your webpages for easy customer use.
The forms can be saved as drafts. This allows users to save their progress and complete the form at a later date.
Learn more about this innovative GoAnywhere module in our Secure Forms on-demand webinar:
Attention GoAnywhere customers! Did you know Secure Forms is already included in your installation? If you'd like to try it, just let your Sales representative know and they'll enable the module in your license.
Like Secure Forms or looking for something a little different? Explore our full list of licensed GoAnywhere modules.