What is FileCatalyst Workflow?
Text
FileCatalyst Workflow is a web portal that simplifies and accelerates large file exchanges and boosts productivity by streamlining submission, distribution, and file sharing. 
Use FileCatalyst Workflow to transfer files – even those huge ones – from anywhere, to anywhere easily and quickly via a browser. Full tracking at every stage ensures you'll always know the status of your file transfers.  
Installing the web browser plug-in takes mere minutes and once you do, you can start transferring huge files, even terabytes of data. 
Plus, your external trading partners can also take advantage of the benefits of Workflow. They can:  
Submit huge files to your organization including form data from any web browser. 
Use File Areas to store files in your organization's local storage or private cloud for collaboration.  
Send file upload requests to your external trading partners and clients and start receiving large files today. 
See FileCatalyst File-Based Workflow in Action
Watch this brief video to see how FileCatalyst Workflow can help simplify file exchanges and boost productivity, by:
Allowing users to submit files to your organization for processing, with full tracking at every stage.
Using "File Areas" for your organization's local storage or private cloud to collaborate. Online access is available from anywhere.
Sending requests for files to people outside of your network.
Explore FileCatalyst Workflow Use Cases
Send Large Files to Any Email Address
Forget about dreaded "bounced email" notifications with FileCatalyst Workflow, as the solution overcomes email file size limits by acting as a go-between in the file transfer process. Files, even huge ones, are sent to the FileCatalyst Server using our Emmy® Award-winning file transfer acceleration technology. Your recipients then receive an email with an accelerated download link, no matter the file size. 
Image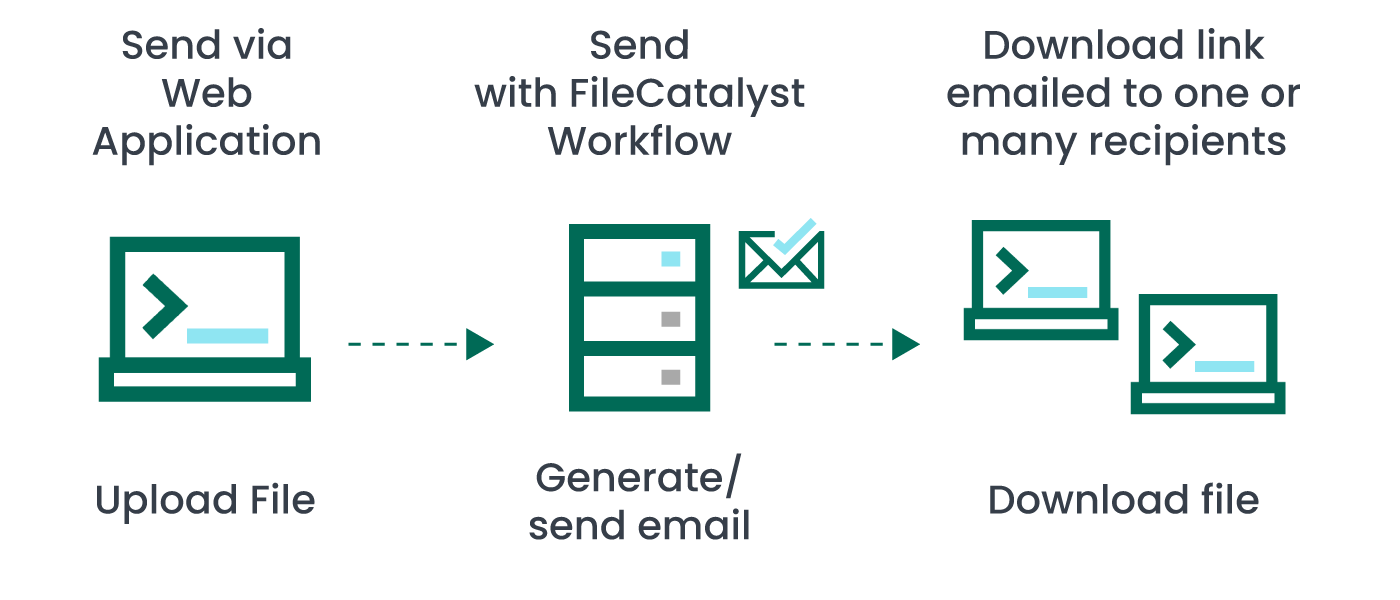 Image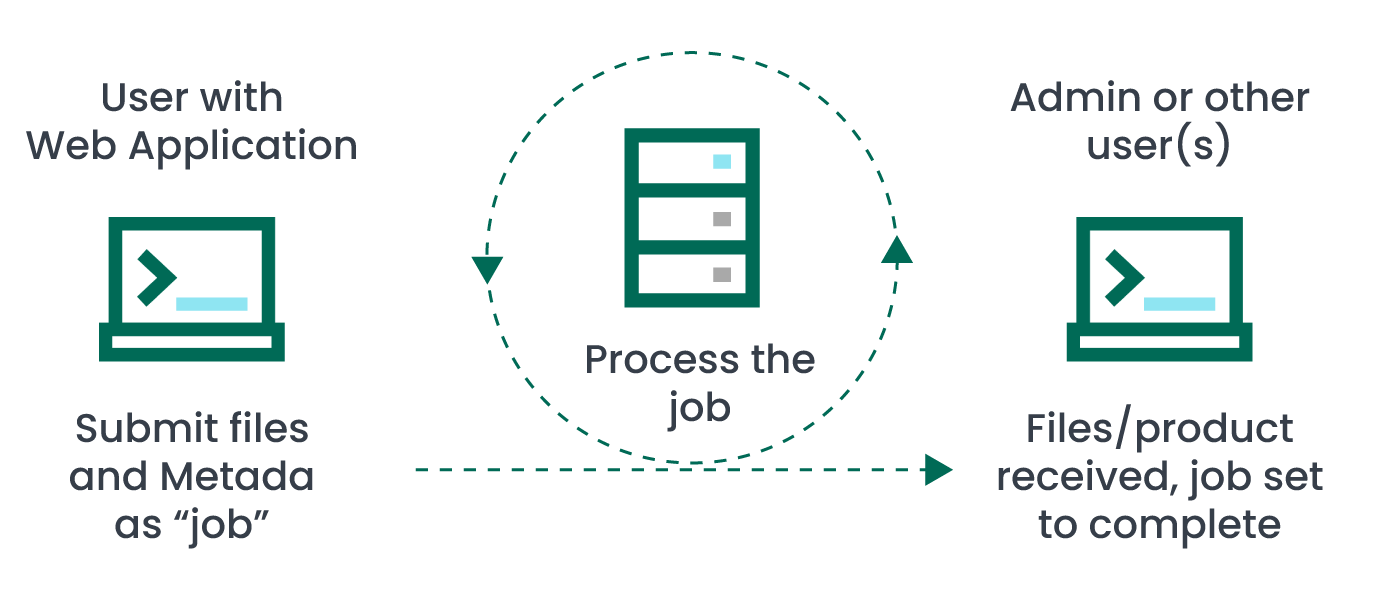 Submit Large Files via Web Portal
FileCatalyst Workflow acts as a web portal where your users can easily upload files. You can create custom form fields to collect any information or metadata needed to process the job. And use these fields to gather information such as quantities, sizes, special instructions, or other data points needed to sort, store, or take next steps.
Once collected, the files and metadata are combined into a "job." A job may go through any number of phases pertaining to your specific workflow, with each step tracked until the job is completed.
Online Sharing & Collaboration with a Central Storage Location
FileCatalyst Workflow acts as your organization's central storage location for one or more "web folders" to keep all your files organized and managed. And for more collaboration flexibility, your users can remotely access shared or personal files from anywhere in the world with remote access via a web browser.
With FileCatalyst Workflow, organizations can upload and download files or any size and assign sharing privileges to files on an individual or group-level account. Group folders, along with read/write permissions, can be assigned to any number of users.
Image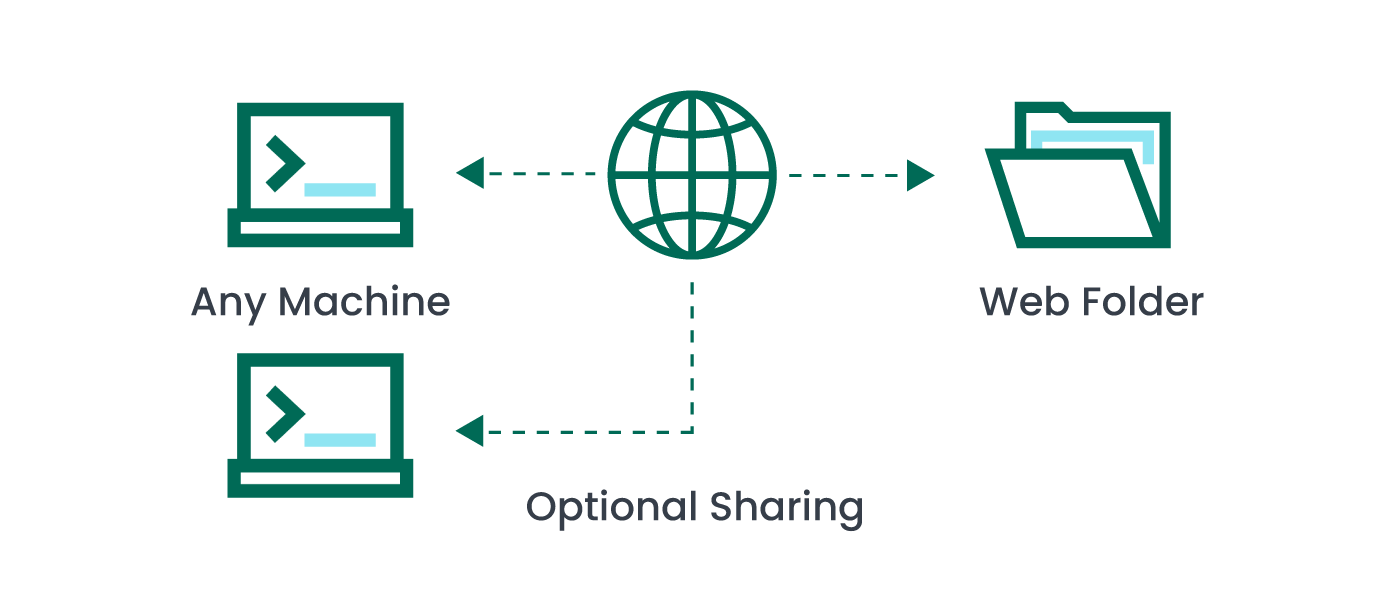 Image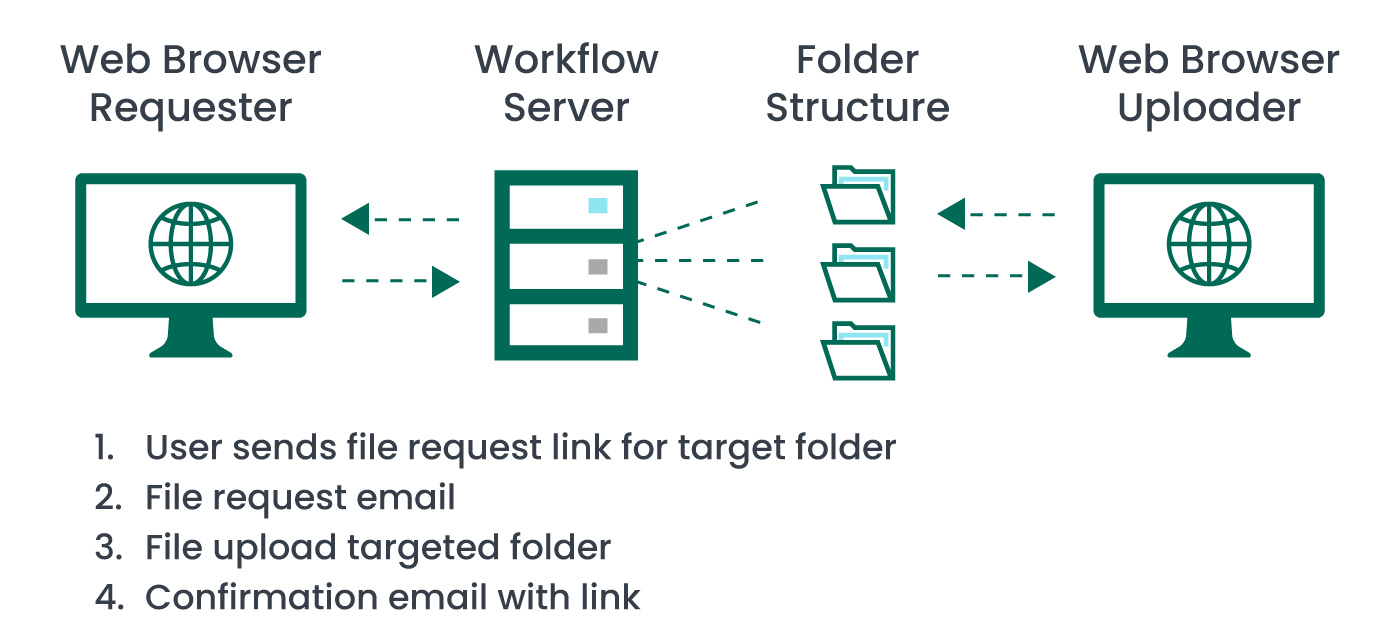 Request Files & Access Web Folders Anywhere
The Request Files workflow enables registered users to request files from anyone with an email address.
When a request is received, the recipient simply clicks a link to be taken to an upload page. Files are then uploaded to the folder selected by the original requestor.
Automation with HotFolder
Text
When Workflow is integrated with FileCatalyst Hotfolder, you get automated and scheduled file submissions. HotFolder is a separate, optional application that can be installed on either Windows, Mac, or Linux and can monitor a local folder for any changes to the files.
Once a new file is detected, Hotfolder automatically creates a new job and submits this file into the FileCatalyst workflow. Tracking of the new jobs is the same as with any other transactions sent via web browser.
Key Features of FileCatalyst Workflow
"Our team has reliably used FileCatalyst Workflow for transferring biomedical research data for over four years now. The tool has contributed greatly to the advancement of science by aiding in the collection and secure transfer of literally thousands of patients records from hospitals as far away as India and Egypt. The unique features of FileCatalyst Workflow allowed us to move data from internet-restrictive countries such as Qatar and China without issue."
— Founder of a Health Research and Informatics Application
See How FileCatalyst Workflow Can Fit Your Organization
Get a personalized demo of this web-based file transfer workflow by FileCatalyst
Schedule My Demo