Text
GoAnywhere MFT (managed file transfer) is a secure file transfer solution that works for healthcare organizations and business associates to safeguard sensitive ePHI and EHR data. The software is easy to implement and requires no programming experience to use, so any team can get up and running quickly.
GoAnywhere simplifies and secures file transfer operations in the following ways:
Encrypts data using FIPS 140-2 compliant AES and Triple DES algorithms
Coordinates patient updates with outside physicians
Protects payroll file transfers sent between an organization and its banks
Streamlines transmission of patient histories and insurance information
Translates data into EDI X12 format and converts EDI X12 documents to other formats
Authenticates all users so only intended parties can access data
Secures patient data transfers to HHS or the CDC
Secures medication records collection from pharmacies
Automates and manages file transfers via a web-friendly dashboard
Simplify and Secure Your Organization's EHR File Movement
Text
GoAnywhere MFT gives healthcare organizations a safe, streamlined way to send large files and sensitive ePHI and EHR data to hospitals, clinics, pharmacies, and insurance companies while complying with EDI X12 trading partner requirements. With a secure file transfer solution in place, health providers can relax knowing patient information is encrypted in transit and at rest, no matter if it resides inside or outside the private network.
GoAnywhere MFT At-A-Glance for Healthcare Organizations
Image

 Includes popular encryption methods: 
Image

 Translates data to and from popular formats like
 EDI X12 and EDIFACT, Excel, XML, and JSON
Left Column
Image

4.8/5 
Image

Middle Column
Image

4.8/5 
Image

Right Column
Image

5/5
Image

What I like the best is the web-based access, the ease-of-use and the built-in documentation. The audit logging has replaced our need to manually create log files. We have more flexibility in regard to scheduling and notifications. GoAnywhere MFT has taken the place of many of our previous scripts and scheduled tasks. There are paid for modules which allow access to other features, such as the built-in reporting, which help minimize costs to only the ones necessary for your environment.
Brian B., Data Analyst, Healthcare
We were looking to replace a PC that was running many batch scripts using the task scheduler and human operators to accomplish tasks. The PC was "ghosted" as a backup and ran old software for ftp transfers and PGP/email transfer jobs to name a few. With GoAnywhere we now have replaced these processes with centrally managed file transfers in a secure and controlled manner. We are able to connect and transfer files between many disparate systems in-house and also out of network, reliably and with accountability.
Jeremy B, Consultant, Healthcare
We needed a tool that would ensure secure and dependable data transmissions. We tried many different tools but none were as versatile and dependable as GoAnywhere.
Dora K., Sr. Database Administrator, St. Barnabas Hospital
Previous
Next
Meet HIPAA and HITECH File Transfer Requirements
Media
Image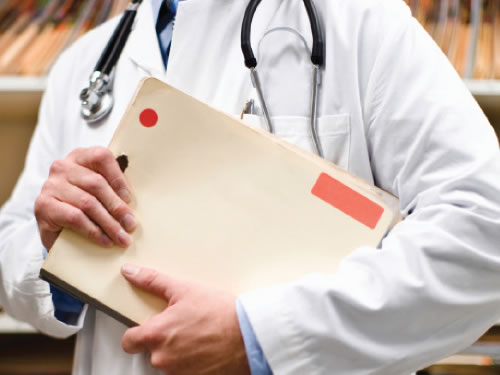 Text
Transferring sensitive records between hospitals, clinics, pharmacies, and insurance companies using legacy file transfer methods or home-grown scripts subjects patient data to increasing risk.
The importance of protecting PHI and the integrity of records means that meeting the "duty of care" requirement also includes information security. Patients should expect that their data will be secured by the trusted organization. As healthcare organizations rapidly adopt health information technology like EHR software, these unsecure file transfer methods are creating risk that leaves healthcare providers open to vulnerabilities and data breaches. It's critical for organizations to secure their data and updated business processes to ensure they meet HIPAA and HITECH's strict compliance requirements.
GoAnywhere MFT can help healthcare organizations achieve HIPAA- and HITECH-compliant file transfers, including with easy translations to and from EDI X12. Explore the security requirements we can satisfy for HIPAA/HITECH standards in this data sheet.
Meet European Compliance Requirements for File Transfers
Media
Image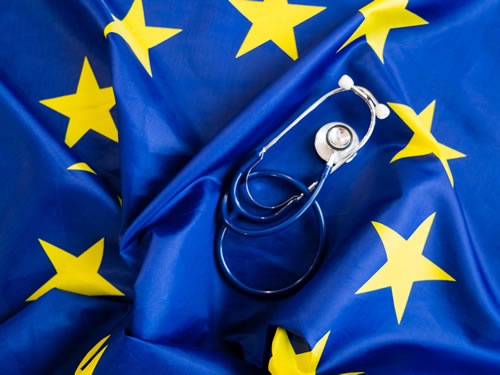 Text
Healthcare organizations in Europe have a lot to consider when ensuring total data security compliance with local, national, and EU-wide regulations.
GoAnywhere MFT can help. With managed file transfer, health providers in Europe can meet compliance requirements for key regulations. GoAnywhere provides an auditable solution with secure file transfers, data encryption, audit logging, and more.
View this data sheet for specifics on how GoAnywhere can help healthcare organizations in the EU meet ePHI and EHR file transfer requirements for the GDPR and other data security standards.
Achieve a Higher Standard of File Transfers
Control the exchange of sensitive patient data
GoAnywhere MFT's centralized controls, security settings, support for popular transmission protocols, and ease-of-use help authorized users transfer and translate PHI data with confidence.
Track file movements for easy auditing
GoAnywhere MFT automatically records and retain logins, file transfer transactions, and any encountered errors. These detailed audit logs and reporting satisfy compliance regulations that require documentation of where ePHI data is transmitted.
Reduce costs, streamline processes, and free up resources
Automated workflows and transaction alerts allow IT staff to streamline mundane tasks, disconnect from business processes, and spend more time on other important projects.
The Network Engineer we used to handle the FTP server spent at least 24 hours a month troubleshooting transfers. He doesn't even touch transfers now unless we need connection assistance.
Lisa Nanney, Senior Programmer Analyst, AnMed Health
Learn how your peers use GoAnywhere MFT to achieve file transfer projects in their organization.