Image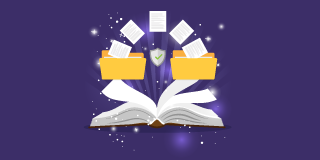 Educational institutions, from preschools to university systems, face increasing pressure on budgets as well as personnel lately. When every minute and every dollar counts, bolstering existing resources where possible can offer a bit of relief.
One way to stretch those human resources is by automating some of the tasks that are repetitive, mundane, and can be done more efficiently and error-free with help from technology. For the educational industry, business processes that involve transferring sensitive files within or outside the organization could benefit from a secure file transfer solution that takes much of the burden off of overtaxed employees.
Securing Sensitive, Confidential Educational Files
Whether your files contain personal and sensitive demographic information such as Social Security numbers, employment data, or healthcare records, your students, parents, faculty, and employees expect a high level of security to surround this information to prevent accidental data leaks or a criminal data breach.
Taking proactive cybersecurity measures such as using a secure file transfer solution can help prevent what could be a huge blow to an educational institution's budget.
In IBM's annual data report, the cost of a data breach was shown to have increased 2.6% to $4.35 million year over year (information collected from March 2021 to March 2022). The report is based on 3,600 interviews conducted with 550 organizations across 17 countries and in 17 different industries including education, healthcare, financial services, and communications.
Related Reading: How MFT Can Offset the Rising Cost of Data Breaches
How Can GoAnywhere MFT Help the Education Industry?
GoAnywhere MFT is a secure file transfer (SFT) solution that secures, streamlines, and centralizes the file transfer process. It does so with an easy-to-use, dashboard-style interface so that users do not require special training or coding to efficiently transfer the many sensitive files exchanged within and between educational organizations each day.
Education IT staff will appreciate how GoAnywhere MFT:
Help Educational Staff Streamline File Transfers
Some of the tasks around exchanging data can be mundane, repetitive, and at risk for human error. By automating secure file transfer operations, your staff can shift their focus to more higher-level priorities. With GoAnywhere there's no special training or coding involved. Your admins can:
Replace manual processes and legacy scripts with more robust, multi-functional file transfer automation
Automate and manage file transfers using a familiar web-friendly dashboard
Generate detailed file activity reports
Run scheduled, multi-step workflows
Authenticate users, ensuring only intended recipients can access data
Centralize user administration
Enforce password policies, a must in a busy educational organization
Integrate applications already in place, such as cloud and web applications like Salesforce and SharePoint
Manage and monitor large volumes of data every day - simultaneously saving time, money, and valuable resources
On-Demand Webinar: 10 Ways to Improve Your Processes with Advanced Workflows
Get More Out of Your IT Dollars with MFT
If a free file transfer solution sounds too good to be true it probably is. Free options such as no-cost FTP tools, file sharing apps, or even email attachments may indeed fit non-critical needs. However they were never designed to offer the security, efficiency, and reliability of a solution designed specifically to protect your sensitive files as they move in and out of your educational organization.
Additionally, a free solution also comes with more "freebies" – the risk of a data breach or leak, manual errors, undeliverability, and more. You could end up spending more money by relying on free software to transfer critical data.
A robust, secure file transfer solution can save you money, time, and help avoid those common security risks. Check out the ROI for your organization with just a few clicks on this interactive ROI calculator.
Related Reading: Top 5 Reasons to Try GoAnywhere's ROI Calculator
Then, dig into even more details on getting the most return for your IT dollars with managed file transfer. Our white paper explores:
What features are essential for making the most out of your solution
How MFT can help you with compliance and security concerns
How GoAnywhere can help on a more "enterprise" or system-wide level, such as a school district, or university-wide scale.
Efficiently Meet Educational Compliance Requirements
The last thing an educational institution or organization needs is to fail to meet compliance requirements and face substantial fines, reputational damage, and the loss of confidence of students, parents, and employees.
GoAnywhere can help institutions meet FERPA, PCI DSS, GLBA, FISMA and HIPAA compliance obligations by:
Encrypting data at rest and in transit
Rotating encryption keys and certificates
Satisfying information integrity requirements
Auditing all transfers and user changes or activities
Generating reports that prove compliance
Centralizing user administration
Enforcing password policies
Restricting length of time for file storage
Ace Your File Transfers with GoAnywhere
With, GoAnywhere MFT in attendance for your educational organization's file transfers, you can focus on higher level priorities knowing you have a cost-effective, easy-to-use, and secure solution at work to stretch your budget and people-centric resources. You can try it for free; request a demo, or see where MFT fits into your school budget today or in the future.