Text
GoAnywhere MFT provides file services to allow customers, trading partners and employees to connect to your system and exchange files in a secure environment. This is an on-premises solution with extensive management controls and audit log reporting. An HTTPS server can also be enabled to allow users to perform ad hoc file transfers through an intuitive browser-based interface.
Available File Services
Media
Image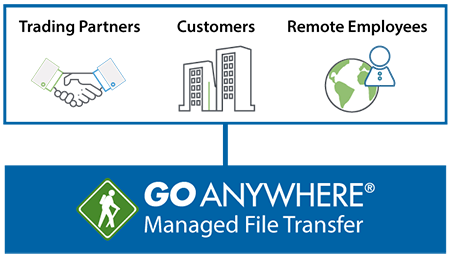 Text
Through the GoAnywhere security controls, you can choose which services are enabled and which users have access to those services.
Secure Your File Sharing
GoAnywhere Gateway helps you share essential documents with trading partners, clients, and vendors without storing data in the DMZ. Exchange files without opening inbound ports to your private network, and keep the locations and identities of your internal systems hidden.
Move Files Securely with GoAnywhere Managed File Transfer
Obtain a personalized quote based on the features you need.
Request Pricing