Enterprise File Sync and Sharing
Text
GoDrive provides Enterprise File Sync and Sharing (EFSS) services for your employees and partners. With GoDrive, files and folders can be easily shared between users with advanced collaboration features including file revision tracking, commenting, trash bin, media viewing and synchronization with Windows, Apple and Android devices.
GoDrive is your best alternative to cloud-based file sharing services. It provides on-site file storage with localized control, end-to-end encryption, and detailed audit trails.
LEARN MORE ABOUT GODRIVE:
Security
Text
GoDrive provides end-to-end encryption for sensitive files. Since no files are stored in the cloud, your organization maintains local control to meet compliance requirements.
In addition to the full complement of security features in GoAnywhere MFT, GoDrive includes:
Set granular permissions at the folder, subfolder and individual file level
Dual-factor PIN authorization for device registration
AES 256-bit encryption on files synced to GoDrive devices
Administration
Text
Included with GoAnywhere MFT, GoDrive provides a browser-based interface for administrators to easily manage users, security settings and shared folders.
Set disk quotas and view disk usage
Deactivate and wipe GoDrive folders from stolen or lost end-user devices
Collaboration
Text
Sharing files with others is a snap using GoDrive. We even give you 5 FREE Users to get started, along with 5 FREE Secure Mail Users for any paid GoAnywhere license.
Employees can quickly invite authorized users to work with their shared folders and files using the provided browser interface. Collaboration features include:
Share
Easily drag-n-drop files between the desktop and GoDrive folders
Generate automatic email invitations to shared users
Create public links to share files outside your organization
Enter file comments, as well as review comment history from other users
Organize files into user-defined folders and subfolders
View thumbnail images of graphics files
Search for files and folders
Monitor
User can monitor shared files via activity streams
Receive email notices when shared files are downloaded or modified by others
View and recover prior versions of files
Manage
Lock files for restricting access
Revoke sharing of folders and files when needed
Place files into a recycle bin for future recovery
Manage shared folder access with granular permissions
View history of when files are downloaded, uploaded and modified
GoAnywhere Desktop Client
Media
Image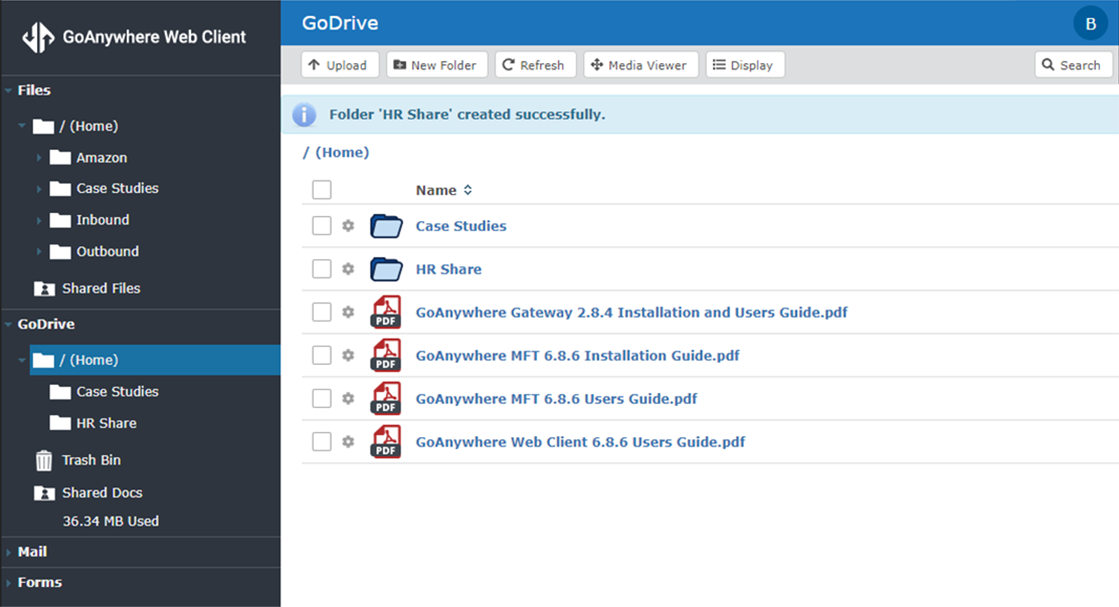 Text
The GoAnywhere Desktop Client for Windows and Mac will synchronize your files from the GoDrive folder on your workstation with the GoAnywhere MFT server. Files automatically appear on each of your registered devices, as well as the Web Client, allowing you to access your files from any internet connected computer. The GoAnywhere Desktop Client for Windows supports Kerberos Single Sign-on for easier adoption by your users.
GoDrive Mobile App
The GoDrive mobile app allows you to access files on your iPhone, iPad, and Android phones and tablets for your authorized account. These files can be previewed or optionally downloaded for offline access. Your files and folders will be automatically updated to the most current version each time you connect to the server.
Logging and Reporting
Capturing detailed audit log information and exporting for reporting purposes is a cornerstone of GoAnywhere MFT. GoDrive logs each time a file is uploaded, downloaded, edited, shared, commented on, and deleted.
Scalability and High Availability
Clustering provides scalability that allows GoDrive to support thousands of users while active-active maximizes availability for mission critical file sharing.
Image